Sanju, the much-awaited and talked about film's trailer is finally out and Ranbir Kapoor does not disappoint.
It's no news that Kapoor is a phenomenal actor, but his attempt and effort to mold into Sanjay Dutt is exceptionally impressive. Not just his appearance, which can be managed with the help of make-up, but Kapoor has skillfully embodied Dutt's posture, his walk, voice, and even his mannerisms through variety of emotions.
Kapoor is camouflaged into Dutt right from the first shot in the trailer when he walks out of jail.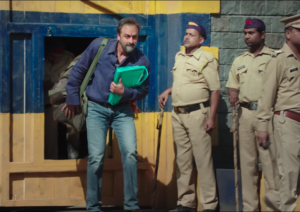 Paresh Rawal and Manisha Koirala are playing the role of Dutt's parents, late actors Sunil Dutt and Nargis Dutt respectively.
The film also stars Sonam Kapoor as Tina Munim, Anushka Sharma as a lawyer, Dia Mirza as Manyata Dutt, Jim Sarbh Salman Khan, Vicky Kaushal as Kumar Gaurav, Boman Irani as Sanjay Gupta, and Karishma Tanna as Madhuri Dixit.
Reportedly, several actors are also playing cameos as themselves in the film.
Watch the trailer here:
Trailer Rating: 
 (5 popcorns)
A power-packed promo that quickly takes you on the wild journey of Sanjay Dutt's life and leaves you begging for more. The film releases on 29th June, 2018.