The much-awaited trailer finally premiered today. Dhadak's trailer launch felt like a countdown to a big reveal, with non-stop promotions across mediums.
It is the Hindi adaptation of the Marathi film Sairat (2016), a romantic drama about innocence and forbidden love.
Since Sairat received tremendous critical acclaim, the expectations from Dhadak are rather high. Moreover, the film is a launch pad for two newcomers – Janhvi Kapoor and Ishaan Katter (also referred to as "star kids," though Katter is a "star brother" of actor Shahid Kapoor), so the stakes are even higher.
The trailer opens with a view of Rajasthan and a conversation between the lead actors talking about making a home, followed by introductory shots of Kapoor and Katter.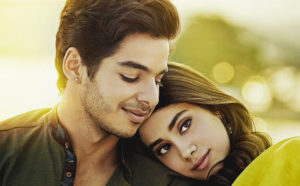 Katter's character, Madhukar appears to be a cool and cheerful lad who is mesmerized by Parthavi, played by Kapoor who seems to be a sassy strong-willed girl enjoying the attention.
Set in Rajasthan, the cast has kept it authentic by conversing in the local dialect. The makers have also included a Hinglish version of the popular Rajasthani folk song "Padhaaro Maare Des," proving the film has all the makings of a Dharma banner.
The trailer shows shades of young romance, drama, politics, and violence. There are also noticeable similarities between the duo's relationship and that of Badri and Vaidehi of Badrinath Ki Dulhaniya. The hero finds cute ways to woo the lady, and the heroine enjoys challenging him. Both films are produced by Dharma Productions and directed by Shashank Khaitan.
Watch it here:
PS. You can't help but compare Kapoor Jr. to her mother, late actor Sridevi. There's definitely a significant resemblance and as a fan you miss seeing Sridevi on camera.
Trailer Rating: 
 (3 popcorns)
The trailer shows a predictable story of young romance which is unacceptable by society. However, it is the performance by the debutants that makes it interesting. Ishaan Katter is effortless on camera; he's not a manly man nor is he a boy-ish boy, but he's charming in his own way. Janhvi Kapoor is a pleasant surprise and brings a certain freshness on screen.