Diljit Dosanjh brings life to the real-life hockey champion, Sandeep Singh's character in Soorma.  
The trailer takes us through the journey of the ex-captain of Indian National Hockey Team, showing all his struggles in his personal as well as professional life.
Beginning with Singh's childhood, we see him as a carefree boy who refuses to take the game seriously. It's only when he meets Harpreet (Taapsee Pannu) play hockey professionally, he decides to train for the sport. However, fate has something else in store.
Just when Singh sets out to win a medal for the country, he becomes a victim of an accidental gunshot leaving him paralyzed from the waist down.
Dosanjh, along with Pannu and Angad Bedi have transformed themselves into their characters as hockey players.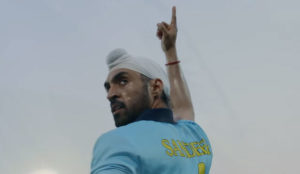 In a span of less than three minutes, the trailer of Soorma is gripping and inspiring, showing the sportsman's strength, determination and courage to stand back on his feet (literally) and soar to success.
Watch it here:
Trailer Rating: 
 (4 popcorns)
Diljit Dosanjh's efforts in transforming into the Sandeep Singh's character are evident. You feel his emotions through the injury, pain, helplessness and his need to combat it all will give you goose-bumps.