Born in Hong Kong and raised in Russia, Rahul Shahani is an artist who is popularly known as Shah Rule. He's the new kid on the block who became a fan of hip-hop quite young and started writing music, rapping at the age of 13 and later graduated with a degree in Audio Engineering.
Shah started his music career by working within the corporate sector, producing songs and jingles for brands.
He moved to India over 2 years ago to pursue his passion for music in Bollywood, and hit gold with one of the most awaited upcoming films Gully Boy. But, interestingly, he will make his debut as an actor.
Gully Boy is film based on underground music artists in Mumbai, with Ranveer Singh playing titular role. Speaking to the artist on why he's been cast as an actor, we discovered that the makers wanted to maintain authenticity of the genre and artists. A post was shared by director Zoya Akhtar's giving real-life rappers an opportunity to feature in the project.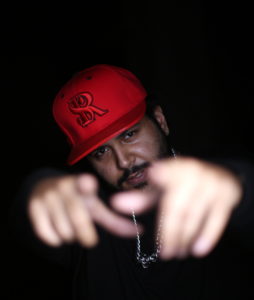 How did it all happen?
I auditioned for a role because I have some acting experience. After a few months I got a call for the second audition, but I was traveling at that time. So I told [Excel Entertainment] that I would have to do it once I am back in the country. While I was traveling, I found all these Instagram posts of Ranveer Singh at the workshop, so immediately thought I lost my chance. So as soon as I came back I got in touch with the team, we had a meeting and I was offered a role in the film.
Gully Boy is about underground artists, hip-hop, rapping as a musical form, which has really evolved in India today, especially with the popularity of Badshah, Raftaar and Yo Yo Honey Singh. How do you see it shaping or becoming more mainstream?
Badshah, [Yo Yo] Honey Singh and Raftaar are the top tier. There are a lot of younger guys who are quite big too and have a huge following, and then there's another level with artists like Divine [Vivian Fernandes] are crossing over, who are from the streets and underground and have signed deals with major labels.
Even today, with rap being so big in the world, it's still hard to accept for the masses over here, which is also the great thing about Gully Boy because it will change the perception of that. If you see the talent that this country has in terms of rap, it's on a complete poetic scale.
But do you think the top artists in the country have established a niche style that has become a benchmark for aspiring rappers?
I do feel that but it's also a formula that's been used in the U.S. and all over the world. Rap has just recently gotten into Bollywood in the last 4 to 5 years, or even 10 years with artists like Hard Kaur, but it was always just one verse of the song. Now slowly, guys like Badshah or Honey Singh have had a few songs where they have the freedom to do the full song. For example, Badshah had his own song in Veere Di Wedding.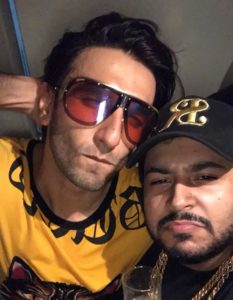 Coming back to Gully Boy, do you think the film will introduce us to another style to the form?
When Gully Boy comes out, India will have a completely different perception of what hip-hop is. It won't be that glamorous with money, girls, cars and stuff. It will show a completely different point of view. It will be more of the artistry.
I think Gully [Boy] is so important because it will bring out so much talent and opportunities.
Speaking of the main "boy" in Gully Boy Ranveer Singh, how was the experience working with him?
Everyone was very dedicated and passionate. Zoya was very cool and helpful. To prep for the scene, she just told me to get on stage and react. I didn't properly meet Ranveer [Singh] before doing the scene and as soon as the director yelled, "cut" after the shot, I felt his energy and he hugged me. And in between takes we sat together and talked; he's such a nice guy who's super passionate, humble and hard working.
Lastly, how would you define yourself as an artist since you have experience in production, mixing, singing, rapper and now even acting?
I would say I am Mogul. I don't look at myself as a rapper anymore. I just want to see myself as an artist, someone who puts out music with emotions that should resonate with people. Rap is my tool and I did start off with it, but at the end of the day I do want to appeal to the commercial audience and I came to India to do that. Being in any part of the music industry is my passion; I am an artist and I want my music out there.
Shah Rule recently released his new single titled Lakhs, exclusively on Apple Music. Check out the video here:
PS. The video features some rappers and extras who will also be seen in Gully Boy. The film is scheduled for release on February 14, 2019.