The opening shot through the village sets the mood of the film, which is possibly shown from the eyes of the ghost, a.k.a. "stree."
The film is about a ghost named "Stree," who happens to visit a village called Chanderi, every year for four days. The myth in the town is that she visits with the motive of killing men.
Rajkummar Rao, a tailor, falls in love with the Shraddha Kapoor's character, who too visits the village once a year. While he is completely smitten by her, his friends suspect that she is in fact is the infamous ghost.
The trailer is packed with a lot of laughs and equal number of scares as well.
Raj and DK surely know their comedy and understand how to blend it with other genres. The duo that gave us Go Goa Gone, the first zombie comedy in India, are bringing fresh concepts to Bollywood and certainly raising the bar.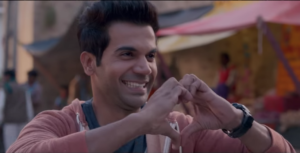 Not enough can be said about Rao and his acting chops, especially his attempt to imitate Shah Rukh Khan's signature romantic squint. You can watch it here:
Trailer Rating: 
 [4 POPs]
Stree seems like a low-budget horror film, and it totally works! The trailer takes you on a roller-coaster ride, it's fun and scary at the same time. Guess we'll have to wait till August 31st to know more about the real stree.
Featured Image Source: still from video on Youtube