Director Karan Johar shared big news on Thursday morning by announcing his next magnum opus titled Takht.
Takht is a historical drama set in the Mughal Dynasty, revolving around the battle for the throne. In a tweet by the man himself, he said it is "a story of a family, of ambition, of greed, of betrayal, of love, and of succession … Takht is about WAR and for LOVE"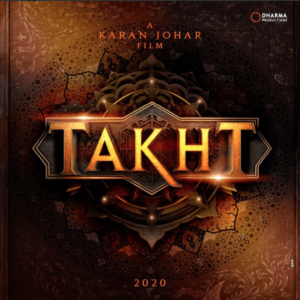 The makers have roped in a grand star cast with Kareena Kapoor Khan, Ranveer Singh, Anil Kapoor, Alia Bhatt, Vicky Kaushal, Bhumi Pednekar, and Janhvi Kapoor.
As per sources, the story is about two brothers where the older brother is the protagonist, while the younger sibling is the antagonist. Singh is expected to play the former, and Kaushal will be seen as the latter in the negative lead.
Johar also acknowledge the writers of the film in a tweet introducing Hussain Haidry  for dialogues and Sumit Roy for dialogues as well as the screenplay.
The Screenplay is by SUMIT ROY! Dialogues by HUSSAIN HAIDRY,SUMIT ROY! And thanks to @NotSoSnob for bringing these talents to us at @DharmaMovies ! An exciting journey ahead….WRITERS are the heartbeat and soul of a film! These gentlemen lead all the way…. pic.twitter.com/hyTucBmKaG

— Karan Johar (@karanjohar) August 9, 2018
The final release date is yet to be announced, but it is expected to hit theaters in 2020.