It takes a village to create a character and bring it to life in a film. A key member of the tribe is an artist whose canvas is the actor's livelihood – the face!
Vardan Nayak is a celebrity make-up artist whose latest muse was actress Janhvi Kapoor in her debut film Dhadak. However, Nayak isn't new to the business of Bollywood.
He spoke to us exclusively about all things make-up:
When did you realize you wanted to become a make-up artist?
I am born in a "make-up" family. My grandfather worked with actors like Pran [Krishan Sikand], Motilal [Rajvansh]. My dad, Dilip Nayak has been working in the industry for almost 35 years now.
I was always been fascinated by my dad's work and he used to travel a lot... I started working with him and he kept me on a set for seven days, with no sleep. A second assistant used to come with fresh clothes so I could shower there and get back to work. Finally my mom got me out of there, but I never gave up.
Then I worked with my dad for two and half years and later got a chance to work with Mickey [Contractor] sir. I worked with him for ten years. My first movie was Kabhi Khushi Kabhie Gham and my last film with him was Student of the Year [SOTY]. Some of my recent projects were Sanju, Sultan and the last release was Dhadak.
Who was the first celebrity you worked with as a solo make-up artist?
Alia Bhatt for SOTY promotions and then 2 States – It was a great experience because we got to know each other very well during SOTY and we both were new.
How do you work on a brief and what's the process of creating a look?
Recently all the directors have started giving a narration, defining the character and what it demands.
That gives us time to create a look; we have to keep several factors in mind like the costumes, the color-palate and the hairstyle.
Also, the DOP plays a big role because they take care of the lighting. We go through several trials to check how it looks with close-ups, what's the mood of the shot, etc. Now that the technology is so advanced, everything is magnified, so you have to be very careful and clean.
Has there been a challenging brief that was difficult to crack?
The most difficult was Sanju. The team was explaining everything and I was working on Anushka Sharma's look. I got a shock when they introduced the curly hair and my only concern was that it shouldn't overpower the look. So we added the blue contact lenses. Actually, she was very tan in the movie, I had given her four shades darker which contoured the face really well, but because of the lighting she was looking fairer.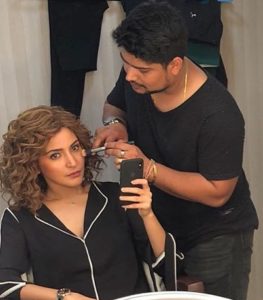 What was the brief for Janhvi Kapoor's character in Dhadak?
The brief for Janhvi's look was pretty simple, I had a very free hand. She liked and wanted something that was current. She wanted lots of shimmer. Her favorite dialogue is "Mujhe shimmer mein dooba doh," which is the trend today so it worked.
That also plays a role in the look because when the audience watches the film they should feel it's "today," and they can connect with it.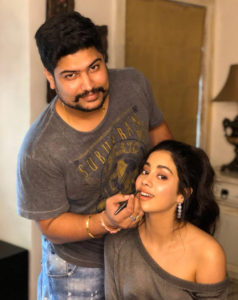 Is there a trend you wish the Bollywood actors tried?
I've noticed suddenly everybody is going clean. Today, everybody is into highlighter. Next season is going to be about colors – eyes, lips, everywhere. The trend of colors is going to comeback.