Writer-director Adeeb Rais is an absolute optimist who believes in staying persistent and following your heart. This is also the message portrayed in his latest short film Aunty Ji, starring National Award winner Shabana Azmi and social media celebrity Anmol Rodriguez.
Drawing from his personal experience in the competitive film industry as well as by observing his peers, Rais developed the story with an interesting insight about millennial.
The younger generation is so fast in giving up. Obviously we can't generalize, but there is a scary trend. Be it a relationship or work-related, if it's not clicking or giving them the desired results they just leave it. Geetika [played by Rodriguez] is a young girl, and a lot of people her age also face small and big hardships. Unfortunately, we don't really fight them. People from the older generation didn't give up easily; they're a lot more devoted in life.
The film focuses on some sensitive issues. Was there a specific take-away or message you wanted viewers to engage with?
Yes, I was very confident about the take-away. Since the inception of the script, I knew it would be extra special. It's not often that we have protagonists who are over 60 and an acid attack survivor.
The tone of Aunty Ji is very subtle; we haven't gone into Geetika's backstory or made it hard-hitting. We've kept it very simple and something that everybody will connect with – just follow your heart. That's also the tagline of the film.
Another thing I wanted to convey through this project was that Geeti is a young girl and faces similar issues like anyone else her age. What differentiates her from "aunty ji" is that she's ready to quit her job after one hard day, while "aunty ji" did develop cold-feet for a moment which is human nature, but she still went for it because getting that tattoo made her happy.
Is the tagline drawn from your personal experience being an independent filmmaker making a spot in the industry?
Yes, I think a large chunk of all my projects are very personal, except for my next project which is a web series that has a couple of thing which I personally don't endorse.
A lot of the ideologies and moments in my writing are either from personal experience or by observing people around me. With Aunty Ji, the basic idea of just chasing your dreams and following your heart has come from my experience. I myself have been persistently pushing myself to turn my dream into a reality in the industry... so it's largely drawn from personal experience and struggles to stay persistent.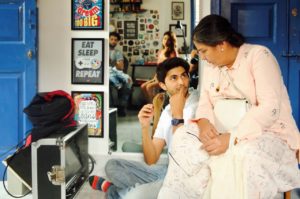 How was the process of casting for the film with two very prominent yet different characters?
The entire process was very organic. Shabana ma'am is someone I've been dying to work with. When Aunty Ji was being written, we had a protagonist of a certain age and required a certain kind of performer; she was the first person we thought of approaching. It was a bit far-fetched initially because she hasn't done many conventional short films. Also, we didn't have the budget and there were two protagonists. So I wasn't sure how she would react, but all said and done I was like "let's just go for it." This is her first Youtube short film.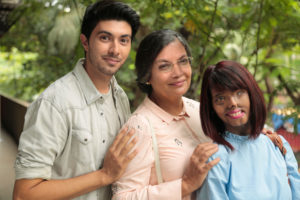 I came across Anmol's social media profile while working on the script. Her vibe and personality absolutely matched with what I wanted for Geetika. She's fun loving, free-spirited, cute. So I was very sure I wanted to cast her. When I met her I told her we will work on the acting with workshops, but I knew she is exactly who I wanted to play Geeti's character.
Everything just fell into place a lot easier than I expected.
For a filmmaker, every project is your baby – the way it shapes up tells you a lot whether it's a problem child or a good kid. This was a blessed project!
As a writer or director, there is always one passion project that is closest to your heart. Do you have a story in your bucket list of films you want to give life to?
Of course! You know what happens is as a young independent filmmaker you see the industry is so cluttered now, and everybody is talented and competitive. The workings of the industry are beyond anyone's understanding. You really don't know when a particular project will go on floors; you have to keep trying and one fine day a certain project just takes off.
I do have dream projects for sure, but they are dream projects. Those are the stories that I am really attached to. They are of a certain scale and they require a certain kind of magnitude in terms of budget, the right cast to drive the audience, etc. I am sure it will happen, but I'm also sure that it will take little more time. I have just started off, so I think it will take a couple of years to reach a level where I can work with the kind of people I want to for these particular projects.
I have read so many interviews from [Sanjay Leela] Bhansali sir and Imtiaz Ali, and all their dreams projects are the ones that happened five or ten years into their careers.
One has to be a little patient for that dream project to happen.
Adeeb Rais will be making his acting debut in a new web series titled Yeh Crazy Dil, which is also written and directed by him. The six-episode series is a young slice-of-life story about a couple in Mumbai. The series also stars Zoa Morani in the female lead along with Lillete Dubey, Mini Mathur, Akanksha Thakur, and Sanaya Pithawalla in extended cameos.