Adil Hussain is a renowned actor who's won several accolades for his exceptional presence on celluloid. Most recently he was recognized with the Norwegian National Award – Amanda Award as the best actor for his film What Will People Say.
Hussain is an artist who wear many hats, including one of a chef. He will be taking over the kitchen donning the role of Head Chef at Nimtho Restaurant in New Delhi on September 15, 2018.
Chatting with the multi-talented artist, he said some of his closest friends claim he's in fact a better cook than actor. I had the opportunity to taste some of his favorite dishes, and I must say his friends aren't wrong.
Hussain put together a dynamic pan-Indian thali with recipes observed on his travels across the country – all cooked with ingredients that grow above the ground, i.e. sans onion and garlic.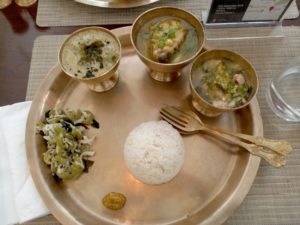 The first dish that caught my attention was a vegetable stew from the origins of Kerala and Assamese Khar fish curry cooked in alkaline water along with a specific kind of banana peels. Also on the menu were a dish made with pumpkin leaves fermented with bamboo shoots, a Kashmiri mutton cooked to perfection.
Talking about his passion for cooking, Hussain said it all began in the 80's when he moved out of his home in Guwahati, Assam. Describing his cooking as improvisational he said, "I started cooking because I missed my mom's food. I used to wait to go back home and sit with her to learn all her secrets… As one travels, one interacts with new flavors organically and I've incorporated what I have picked up from others' kitchens."
The English Vinglish actor is now inviting foodies in the capital to join him for an afternoon enriched with great conversations and flavors from Kashmir to Kerala.
Head over to Insider.in to book your spot for a one-of-a-kind Saturday lunch and do share your experience with us.
Note: The details mentioned in the article are pertinent to an exclusive event scheduled for September 15, 2018 only.