Actress Richa Chadha left no stone unturned preparing for the titular role of south India's adult star Shakeela in a biopic. She got into the skin of the protagonist who is known for softcore productions in early 2000s.
Chadha shared her look from the film few weeks ago, donning a traditional white and gold saree.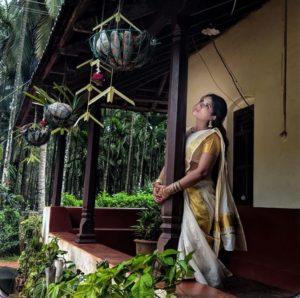 On the occasion of Dussehra, the actress shared another photo from the production set – a life size poster of Shakeela; In a response to a comment asking what kind of "ravan" was in the photo, Chadha cheekily replied "zaroori wala." This is presumably in the context of the gender bias and the evolving times in the entertainment world (i.e. the #MeToo movement in Bollywood).
Though Chadha found the Shakeela's story "bizzare" at first, she was drawn to the script by Kannada filmmaker Indrajit Lankesh.
"I saw so many dramatic moments in her life that it looked like a screenplay ready to be made into a film. She's a survivor. There are so many aspects of her personal life that we don't know about, those that shaped her. The personal affects the professional – that interplay is the film."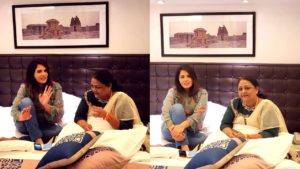 Chadha interviewed Shakeela about her life when they first met. By the second time, they were behaving more like friends, she said. "I just wanted to observe her and see where she is coming from," Chadha said. "We are both middle-class girls. I was raised in Delhi in a joint family and brought up a certain way. When I met her, I realised that in some way, my conditioning holds me back, while she is more liberated. Her life is full of contradictions. On the one hand, she is very religious, proper and modest, and then there is this other facet to her which is quite liberated and worldly."
Lankesh too thoroughly studied and reviewed Shakeel's life story. After seeking her permission for an official biopic, he made her sit in front of a camera and asked her to talk about "anything and everything that came to her mind". The director added, "She has a written a book about her life but I felt she hasn't spoken about herself and her life in its entirety. I recorded everything she said in front of my camera that day. And then wrote a script. This is her story."
Both Chadha and Lankesh asserted that the biopic would present a nuanced portrayal of Shakeela. "Life is not black or white," Chadha said. "It is grey and we are happy to present that grey side to you."
[THIS STORY HAS BEEN SOURCED FROM www.scroll.in AND PUBLISHED HERE WITH SOME EDITS. POPCORN PIXEL ACCEPTS NO RESPONSIBILITY OR LIABILITY FOR ITS AUTHENTICITY AND DATA OF THE TEXT, AND RESERVES SOLE RIGHT TO ALTER OR DELETE THE CONTENT IN ITS DISCRETION, WITHOUT NOTICE].