Simmba as we all know, is the little lion cub who wishes to walk in the footsteps of his father [in case you're wondering – that's from the 1994 Disney classic The Lion King]. Right there is the analogy for the new Ranveer Singh starrer Simmba. 
Simmba is about a boy whose idol is Singham (meaning "lion") of the 2011 film starring Ajay Devgn, who is a heroic honest cop in Goa. While Singham was a good cop, Simmba picks up the bad traits becomes a cop for all the wrong reasons.
Singh, playing the titular character is a flashy and loud character who talks in filmy one-liners.
The trailer shows glimpses of the plot of a corrupt cop getting caught up in a situation that transforms him into a choosing the righteous path.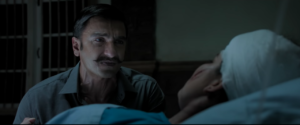 Sonu Sood plays the negative lead and Sara Ali Khan manages to squeeze in a dialogue in the trailer.
Simmba appears to be a true-blue Rohit Shetty masala flick with bright colored settings, synchronized choreography with countless back-up dancers, action sequences in high-speed … and of-course cars flying and blowing up.
Watch the trailer here:
Rating Prediction: 
  [3 / 5]
Shetty knows his Bollywood and promises another entertainer with a larger-than-life hero, singing and dancing, and an old-school villain. Our only hope is that female lead gets equal screen-space and script-space.
Simmba release on 28th December, 2018.