The remix trend isn't going away anytime soon. Bollywood music fans have been debating the subject of remaking old classic songs for almost half a decade now. The trend picked up with the popularity of pop artists / rappers such as Yo Yo Honey Singh, Badshah and the likes.
While some remakes become chartbusters for peppy beats and nostalgia [example Tumma Tumma from Badrinath Ki Dulhania in 2017], others have been flat-out disastrous… and quite unnecessary [hint: Ek Do Teen in Baaghi 2 earlier this year].
just when we were reaching our boiling point with this claptrap, we're hit with another track… AND IT'S GOOD!
The new remake on the block – Aankh Marey from Simmba (2018) starring Ranveer Singh and Sara Ali Khan is oh-so-refreshing.
Let's talk why –  
The makers retained the drum beats, and just like the dancers in this video and the original of 1996, you want to break over-the-top thumkas.
The sweet blend of the original contemporized with slightly auto-tuned vocals is joyfully entertaining… and pleasant change from the inappropriate rapping forced in a verse for impact.
The video too has a new-age synchronized choreography, with a large number of back-up dancers, taking cues from the 90's. What makes the visuals more appealing are the slick use of lights to highlight each dance move… something done in post-production I believe. It definitely adds a little spark to every moment and movement.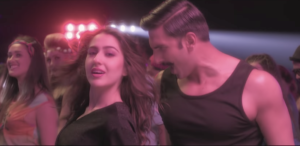 While there is a lot happening in the three minute twenty-two second video, it's Sara Ali Khan who steals the show. Her style and expressions will give you a glimpse of Karishma Kapoor dancing alongside Govinda in the 90's. She is effortlessly charming and a breath of fresh air.
Last but not the least, the cameos by none-other-than the Golmaal gang… and the star of the original aankh maare, Arshad Warsi grooving to the refurbished tune!
In case you haven't seen the video or heard the song yet:
PS. My reaction to the intro matched Karan Johar's sentiments from the video, but the makers have certainly surpassed my expectations. Well played guys, well played!