If you thought Ek Ladki Ko Dekha Toh Aisa Laga [ELKDTAL] is a simple boy-meet-girl love story with families opposing their relationship, you may want to watch the trailer again.
The film's trailer has caught our attention for it's unique subject packaged with simplicity.
The trailer opens with Sahir Mirza (played by Rajkummar Rao) welcoming the audience at a crowded theatre, asking them to watch the story with their hearts, not brains.
We see glimpses of an over-enthusiastic Indian family trying to get their daughter Sweety Chaudhary (played by Sonam Kapoor Ahuja) married off to a potential life-partner.
Some men are good on paper, some from matrimonial sites, and even Mirza who is smitten by her… but she has a secret.
The little girl who dreams of becoming a bride and getting married to her soulmate hides her true identity from everyone, until one day she breaks down.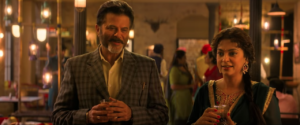 ELKDTAL also stars Anil Kapoor, Juhi Chawla, Brijendra Kala, Abhishek Duhan and Seema Pahwa in prominent roles.
Kapoor Ahuja is charming in every frame and makes an impact, keeping us wanting to know more about her secret.
The story is in the tagline and it's definitely "unexpected." There are hints in the trailer as well.
In case you missed it, watch it here:
Rating Prediction: 
  [4 / 5]
Kudos to Shelly Chopra Dhar and Gazal Dhaliwal for venturing into such a bold script, which is not only relevant but deserves space in commercial Indian cinema. The film releases on 1st February, 2019.