Photograph starring Sanya Malhotra and Nawazuddin Siddiqui was premiered 2019 Sundance Film Festival and the 69th Berlin International Film Festival, post which the world saw a glimpse of the film.
The recently release trailer opens with a street photographer in Mumbai named Rafi (played by Siddiqui), convincing a potential customer Miloni (played by Malhotra) to pose for a picture. His pitch to her, in a way, foreshadows how their relationship would unfold –
… saalon baad jab aap yeh photo dekhengi madam, toh aapko aapke chehre pe yahi dhoop dikhaayi degi.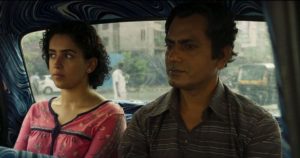 Miloni is a student from a middle-class family, whom we discover, falls in love with the photograph taken by Rafi. The simple girl who doesn't emote much says she found saw a more beautiful and happier version of herself in his photograph.
The two strangers cross paths in an unusual circumstance when Rafi convinces Miloni to pose as his fiancé so his grandmother would stop pressuring him to get married… and she agrees.
Watch the Trailer here:
Rating Prediction: 
  [4 / 5]
The mood of the film feels a little slow, soft, and sad but very real and warm. You're left questioning "will they, won't they," but the details lie in subtle and tender emotions.