Netflix announced the second season of India's most popular web-series of 2018 Sacred Games… and it sure knows how to build suspense.
Following the cryptic storyline of the show, Netflix India posted four names with different mandala designs which seem to be symbolic to four episodes for season two.
The four names read as, Bidalah-a-Gita, Katham Asti, Antara Mahavana and Unagamam.
Sacred Games is based on Vikram Chandra's best-selling novel; the first season of was co-directed by Anurag Kashyap and Vikramaditya Motwane. The first season had eight episodes, which too were titled in Sanskrit aphorisms – shwathama, Halahala, Atapi Vatapi, Brahmahatya, Sarama, Pretakalpa, Rudra and Yayati.
The series revolves around a Mumbai police officer Sartaj Singh [played by Saif Ali Khan], who receives an anonymous tip which promises him an opportunity to capture a criminal overlord Ganesh Gaitonde [played by Nawazuddin Siddiqui].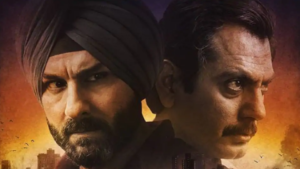 Season 2 is expected to pick up from from Sartaj connecting the dots after Gaitonde's mysterious death (or so he believes) and relentlessly solving the mystery of what could destroy the city.
As the caption on Nextflix India's post suggests, 6 din main sab kuch dikhayi dene lagega (all shall be revealed soon).
[THIS STORY HAS BEEN SOURCED FROM ANOTHER PUBLICATION. POPCORN PIXEL ACCEPTS NO RESPONSIBILITY OR LIABILITY FOR ITS AUTHENTICITY AND DATA OF THE TEXT, AND RESERVES SOLE RIGHT TO ALTER OR DELETE THE CONTENT IN ITS DISCRETION, WITHOUT NOTICE].