Director Vasan Bala's latest film Mard Ko Dard Nahi Hota (MKDNH) is becoming a cult favorite among movie-lovers. The critically acclaimed martial arts comedy is the fastest film to release in China post a national release, and is now streaming on the Chinese video-on-demand platform iQiyi.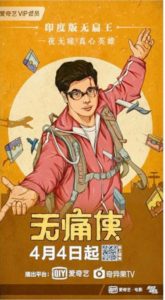 MKDNH is an action-comedy that revolves around the life of Surya (played by debutant actor Abhimanyu Dasani), a young man with congenital insensitivity to pain, an rare condition which he uses to his advantage to fight petty criminals.
Though the film will not get a theatrical release in China, Bala is certainly excited about the story going overseas. He said,
"That would have been a dream. But I am obviously thrilled to have the film released [online] in China. I hope a lot of people there watch and find something to celebrate in the way we tried to celebrate martial arts. Hopefully, we find a common platform to love and remember all the films we grew up on."
Earlier, MKDNH received the biggest ever opening for an Indian film in Taiwan. It also received the  People's Choice Award: Midnight Madness at the Toronto International Film Festival (TIFF) in 2018.
The high-octane martial arts comedy also stars actress Radhika Madan, along with actors Gulshan Devaiya and Mahesh Manjrekar. 
[THIS STORY HAS BEEN SOURCED FROM ANOTHER PUBLICATION. POPCORN PIXEL ACCEPTS NO RESPONSIBILITY OR LIABILITY FOR ITS AUTHENTICITY AND DATA OF THE TEXT, AND RESERVES SOLE RIGHT TO ALTER OR DELETE THE CONTENT IN ITS DISCRETION, WITHOUT NOTICE].